Selling a Home in Omaha Metro
This is what we do!
Once you decide to sell your home, there is plenty to do before you can list it. Preparing your home for sale may seem daunting, but we can help this process be one that is both organized and simple. Following a step by step process, there is no need to be overwhelmed by the selling process.
The most important factor in having a positive home selling experience? Your team of real estate professionals. Work with a team who has the experience and expertise to help you price the home properly and guide your process to make the best use of your resources as you prepare to attract the best buyers.
Next, follow these tips to make the most efficient use of your time, energy, and financial resources as you get ready to list your home.
1. Pay attention to first impressions
While curb appeal is the traditional first impression a home gives, "screen appeal" is the more relevant first impression for most potential buyers today. The vast majority of your potential buyers will see your home in online listing photographs before ever seeing it in person.
To prepare your home to put its best digital foot forward, make sure it is as photogenic as possible by:
Decluttering the home: Remove excess personal items like shoes and coats that are visible in photos, store papers and office supplies out of sight, hide pet items in the garage or a cabinet, and put your toiletries and bath towels away for photos and showings.
Replace personal decor: Help potential buyers imagine themselves in the home by replacing family photos, personal collections, and other personalized decor with more neutral decoration that appeals to everyone, like house plants or landscape photos.
Neutralize the palette: If your current decor features a bold color palette or unique furniture choices, consider staging your home in more neutral ways by repainting walls or toning down a decor theme.
2. Address minor repairs
That doorknob that's been lose all year? Now is the time to tighten it up. Minimal issues with your home that you may not even notice any more can give the impression of a poorly maintained home, leading your buyer to believe the home is not in great shape.
Take the time to tighten loose screws, lubricate squeaky hinges, and patch or paint dents and marks.
3. Deep clean the home top to bottom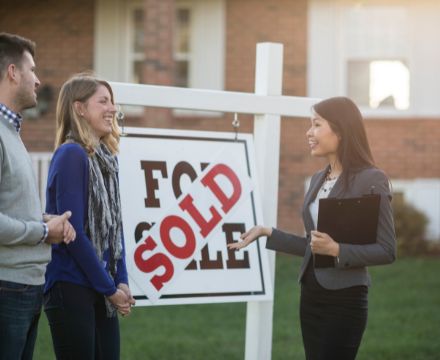 Prepare your home for showings by giving it a deep clean. We recommend hiring a professional if it is in the budget, though this is also something that you can DIY if you have the time. Address any sources of odor, taking special care to think of things you might have become "nose blind" to, such as litter boxes, diaper pails, or refrigerators.
We recommend staying on a regular cleaning schedule, whether doing it yourself or hiring a professional, for the duration of the time your home in on the market. This includes a thorough deep clean before the home is photographed. This investment of time, money, or both will pay off when it allows your home to be presented in its best light.
4. Prioritize your renovations
Some renovations will result in a higher purchase price, while others may end up being an investment you make with little to no return. Before investing in any renovations prior to listing, talk with your real estate agent to find out what your ideal buyer is looking for. You may be surprised which renovations are a priority, and which can be avoided.
5. Get the price right and choose the right offer
Pricing your home properly is essential. Pricing your home too high can be a turn off to some buyers or cause your home to stay on the market too long and result in lowering the price. This can signal potential buyers that your home is worth less than you think, weakening your negotiating power. Pricing your home too low may leave money on the table. To get this right, you need an agent with experience and knowledge of the current local market. We have both.
When offers begin to roll in, you may end up in a situation where you have to choose between multiple offers. Keep in mind that the bottom line is not always the bottom line. In other words, the highest dollar amount may not always be the best offer. Pay attention to the concessions or conditions in the offer, the financial strength of the buyer, and the expected timeline to make sure you find the offer that works in your best interest.
Want more information? Contact us anytime to find out how we can help you prepare your home for sale.
From Our Blog - Selling Your Home