What You Need to Know About a Seller's Disclosure
Posted by Tammy Emineth on Tuesday, August 23, 2022 at 6:48 PM
By Tammy Emineth / August 23, 2022
Comment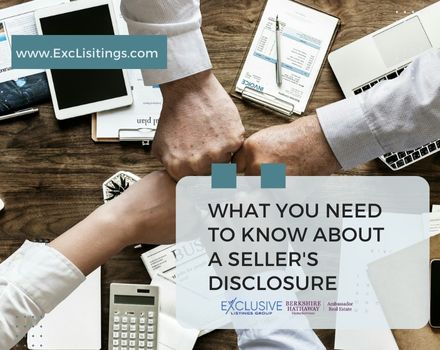 Before you sell your home, you need to understand what a seller's disclosure is and why it is important. This essential legal document is required for almost every real estate transaction, and provides protection for both the buyer and the seller.
What is a seller's disclosure?
A seller's disclosure is a legal document that discloses any relevant information about the property that a buyer will need to know. It protects buyers from unwelcome surprises after a real estate transaction, and protects the seller from a lawsuit after the sale.
The disclosure is provided to the buyer from the seller quickly after accepting the offer. In most cases, within a couple of days of accepting the offer, a seller will provide the disclosure.
Are there any sales that do not require a seller's disclosure?
There are some exceptions to the rule, as always. A seller's disclosure is not required in certain real estate cases, including:
An "as-is" sale
A foreclosure or deed-in-lieu of foreclosure
A gift or transfer of property between family members
A transfer between partners after a divorce or the end of a domestic partnership
Some business deals in which the buyer already has partial ownership of the property (like a rent-to-own agreement)
Bankruptcy sales
Estate sales
A unique case in which the buyer waives the right to disclosure
If your transaction does not meet any of these unique criteria, chances are a seller's disclosure will be required.
What is included in a seller's disclosure?
So what information is contained in a seller's disclosure? We can help you determine whether there are any specific criteria that need to be disclosed, unique to your home. In general, a seller's disclosure will include information regarding:
Death in the home, including the death of any household members or guests, including whether it was a violent crime or a natural death.
Items that will not be included in the sale, that may be considered a part of the home. This might include a chandelier that you plan to bring with you or some of your appliances.
Crimes that took place in the home.
Water damage in the history of the home, or potential known flood risk due to the location of the home.
Significant repairs the house has had done, or repairs you know need to be done. This will include documentation of the permits for the work, if applicable.
Any known hazards, like asbestos, radon, lead paint, mold, or environmental hazards like being in a location with a high risk of natural disasters.
Neighborhood nuisances that might include noise neighbors, strong odors in the area, or other irritants.
How does a seller's disclosure provide protection?
It is easy to see how a seller's disclosure protects the buyer, allowing them to make a fully informed purchase. How does it protect the seller?
By disclosing all required information in a legal document, you are protecting yourself from a lawsuit in the future if the buyer is unhappy with the condition of the home. Without a seller's disclosure, it may be difficult to protect yourself from a lawsuit that is attempting to hold you responsible for damage to the home that way done after the sale, or without your knowledge.
To learn more about selling your home, feel free to come to us with any questions! Our team of experienced professionals is here to help.