The Role of a Seller's Agent
Posted by Tammy Emineth on Friday, September 23, 2022 at 5:19 PM
By Tammy Emineth / September 23, 2022
Comment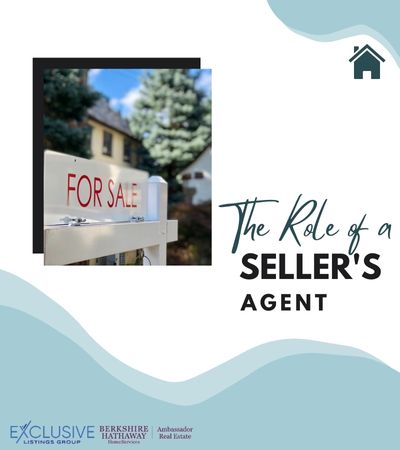 Selling your home is a complex process, where the success of the deal is dependent on pricing it correctly, marketing to your ideal buyer, preparing the home for sale, and carefully reviewing the offers that come in. While it is possible to sell your home without hiring an agent, there are plenty of reasons to lean on a professional in order to have the most successful experience.
A seller's agent has an important role, and the right agent will decrease your stress and help you reach your goals with the transaction. Not sure what exactly a seller's agent does? Keep reading to find out.
Advises on How to Prepare the Home
When you meet with your agent, they will help you determine what needs to be done to meet your goals. This will vary depending on your home and your priorities. For example, some sellers want to prioritize selling the home as quickly as possible to work within a tight timeline, while others are willing to move more slowly if it means attracting higher offers.
As you discuss your goals and priorities, your agent can advise you on what to do next. Deciding where your resources will best be spent, you won't have to worry that you've wasted time and money on renovations that won't pay off or that you've left money on the table by neglecting to thoroughly prepare the home for listing.
While you can find some wonderful information online to guide you as you paint, renovate, and stage your home for sale, the best advice you can get will come from the expertise of an agent that is actively working in your area.
Helps You Set the Price
Pricing your home is an essential step in the success of the process. Your agent can prepare a comparative market analysis (CMA) to help you see how your home compares to others on the market recently in your area.
Understanding the current local market and the profile of your ideal buyer is essential in pricing your home correctly. Pricing it too high will likely result in a home that is left on the market longer than is preferable, which usually means you will end up needing to reduce the price. This can look like a red flag to some buyers. On the other hand, pricing it too low may mean your ideal buyer won't be looking at it, or you simply leave money on the table.
Markets the Home
Marketing is most successful with a team of professionals cooperating together. Maximizing the screen appeal of the property is an essential part of the process, as the majority of your potential buyers will see your home virtually before deciding if they would like to schedule a showing or attend an open house.
The marketing process entails far more than listing your home online. Before the listing can be created, staging, minor renovations, and professional photography have to come together to create the content in the listing. That listing then needs to be promoted in a way that takes advantage of internet algorithms. Rather than trying to figure out how to do this yourself, let us deal with the details.
Provides Insight when Comparing Offers
After your home hits the market, offers will start to roll in. In today's market, it is common to receive multiple offers. This is a great thing for you as a seller, but it can present challenges.
An agent can help you determine which offer is in your best interest. The highest dollar amount is not always the one that is most advantageous for you, depending on your priorities. For example, if a tight timeline is motivating you to sell quickly, choosing a slightly lower cash offer may be the right choice over a higher offer whose financing has the potential to fall through.
There are also plenty of situations where the bottom line is not the most important factor to you. Maybe selling the house to a family who intends to live there for decades is a priority for you, or perhaps you want to work with someone who is willing to rent it back to you for a few months. Whatever the case, we can help provide inside as you compare offers.
Assists with Negotiations and Closing the Deal
Even after accepting an offer, there is plenty of work to be done during the escrow process. Inspections, appraisals, and negotiations can be complex and stressful. Working with the right agent, you can lean on the expertise and experience of your professional team rather than taking the stress on your own shoulders.
To learn more about getting ready to sell your home and how to have the best experience possible, contact us any time!