The Benefits of Professional Real Estate Photos
Posted by Tammy Emineth on Monday, October 3, 2022 at 5:42 PM
By Tammy Emineth / October 3, 2022
Comment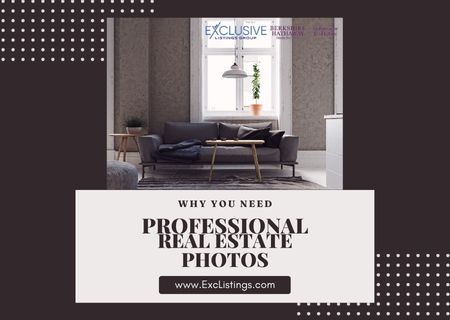 When you sell a home in today's market, the screen appeal of the property is one of the primary factors in the type of attention it gets. Screen appeal is the way your home appears in the online listing, where nearly every potential buyer will get their first impressin of the home.
Having high quality, professional photos is simply essential to the most successful home selling experience. While you can sell your home without them, we always recommend investing in quality photos for the best possible outcome. Here's why.
Photos Provide the First Impression
The photos of your home present the first impression to the buyer. Nearly every buyer will see your home online before they see it in person. While curb appeal still matters, screen appeal is the new first look your buyers will get. Don't miss the chance to capture your ideal buyer's attention by listing with less than stellar photos.
No matter how wonderful your home is, low quality or poorly lit photos will not allow it to shine. Staging plays a major role in the way photos appear, so don't underestimate the importance of decluttering, cleaning, and arranging each room to show its best features. After staging is complete, a professional photographer can optimize the work you've done in the home to grab the attention of potential buyers scrolling through online listings.
Listing with Professional Photos Attract Higher Offers
Did you know that professional real estate photos tend to lead to above asking price offers? According to an article by Redfin a few years ago, homes that are marketed online with high quality, professional photos sell for more on average than those without. When you realize this, the investment in professional photos begins to seem pretty minimal.
Professional Photos Highlight Strengths and Disguise Weaknesses
Amatuer real estate photos often unintentionally highlight the least desirable features of a home. They may also create a problem that isn't there. For example, poor quality photos can make a room appear darker or smaller than it does in real life.
On the other hand, professional photos can highlight the strengths of the home while downplaying anything that might be considered a weakness. With the right lighting, angles, and lens, a professional photo will show how beautiful and livable your home is. Remember, many of your best potential buyers will decide if they are interested in your home based solely on these photos.
Professional Photos Give a Positive Impression of a Well-Maintained Home
Marketing a home involves giving your potential buyers a strong first impression. Whether they are consciously thinking about it or not, your buyers will see the photos and make assumptions about the condition of the home based on them. A poorly lit photo of a room that lacks staging and decluttering will give your buyers the impression that your home was not carefully maintained, or perhaps that it was put on the market in a haphazard, last minute fashion.
Instead, you want to show your buyers that this home stands out from the competition as one that has been well taken care of. High quality professional photos present a home that looks like it is appreciated. You want to present the impression that you have consistently invested time, money, and effort into maintaining your home well.
If you're wondering where to begin in the home selling process, contact us any time. We are ready to help you have a successful experience!