Should I Renovate My Home Before Selling?
Posted by Tammy Emineth on Monday, August 8, 2022 at 5:22 PM
By Tammy Emineth / August 8, 2022
Comment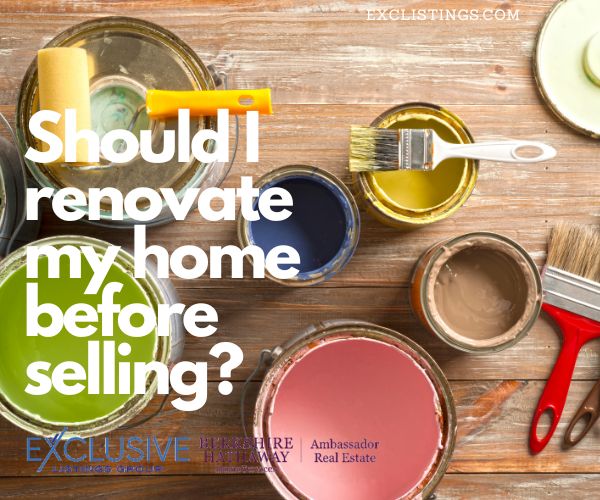 As you prepare to list your home, you are likely wondering what needs to be done to increase the value of your home most efficiently. Deciding whether you should renovate your home before listing or sell it in its current state depends on a variety of factors.
As always, if you are not sure what the best choice is in your situation, contact us to find out what an expert would recommend. In the meantime, keep reading for our tips on deciding whether you should renovate your home before selling it.
More: When is the Right Time to Renovate?
Types of Homebuyers
Keep in mind that the condition of your home, and therefore the price it deserves, will attract different types of buyers. There are buyers in the market looking for a great deal that could benefit from some sweat equity, like house flippers or those looking to save money by buying a fixer upper.
On the other hand, there are another group of buyers who want something move-in ready. Investors who want an income property that is ready for occupancy or buyers who just want a turn-key property that requires no immediate attention will be attracted to a home with no pressing renovations needed.
Factors to Consider
As the seller, you can decide which type of buyer you plan to attract. This is a complex decision based on multiple factors.
Timeline
First of all, consider your timeline. Depending on your neighborhood and the price range your home falls into, your real estate agent can give you a good idea of how quickly you can expect to receive offers on your home.
If you are not on a tight timeline, investing a few weeks or months in renovating your home before selling may be a great way to get the best price for your home. If, however, you want your home to sell by a certain date due to closing on a new construction home, relocating for a new job, or any other time sensitive scenario, a renovation may be a risk not worth taking.
Not all renovation timelines are created equal, either. Some minor renovations can be completed within a weekend, while others are at the mercy of contractor's schedules, supply chain delays, and other potential hiccups.
Budget
Of course we can't forget the budget of the renovations. The only reason you would renovate is to increase the profit you make on the sale of your home, so paying careful attention to your budget it essential.
If you would rather keep as much cash on hand as possible, minimal renovations before selling may be the way to go. Talking with your realtor about which renovations are most pressing is a great way to prioritize your projects.
For example, you may be able to forgo replacing carpets and instead get a professional carpet cleaning. A full kitchen renovation may not be required, and instead a cosmetic refresh could do the trick.
Listing Price
Listing your house for the right price is important. If you list it too low, you will leave money on the table and may not attract your ideal buyer. List it too high and your house may sit on the market for a while or appraise for less than the offer you accept.
You also need to keep your neighborhood in mind when considering listing price. As you plan your renovations, be careful not to invest so much into preparing your home for sale that the listing price will have to be far outside what is reasonable for your neighborhood.
Additional: How to Purchase and Renovate a Fixer-Upper
If you'd like more information about preparing your home for sale, we are here to help. Contact us any time to get started!