Reasons to Sell Your Home
Posted by Tammy Emineth on Monday, September 26, 2022 at 4:22 PM
By Tammy Emineth / September 26, 2022
Comment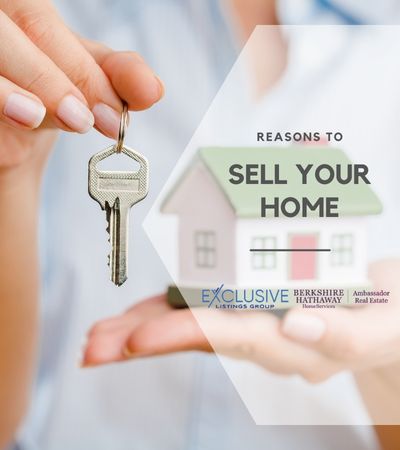 If you are a homeowner, there are plenty of factors you likely have in mind that may lead you to want to list your home or hold onto it a while longer. With rising interest rates and the housing market finding a new balance, some homeowners are wondering whether now is still a good time to sell.
The short answer is that now is still an excellent time to sell, in light of how the market has been historically. While you may hear rumblings of a housing market bubble, real estate experts know that we will not see a repeat of the 2008 housing crash. There are still far more buyers than there are houses on the market, and you likely have a significant amount of equity in your home that puts you in a strong position as the seller.
However, even when the market is right, selling your home is an intensely personal decision. How can you know if now is the right time to list? Check out these good reasons to sell your home. And, as always, we are always ready to answer any questions you have! Contact us any time.
1. Major life change
One of the most common reasons to sell your home is a major life change. This might be welcoming a new child, accepting a new job, sending children off to college, or making space in your home to care for an elderly parent. As life changes, your housing needs often do, too.
If you are realizing that you are outgrowing your home, make a thorough list of what you need in a new home and let us help you make a transition to a space that will suit your current and future life.
2. Looking for different amenities
When you bought your home, you may have loved the amenities in the immediate community. Maybe having a walkable neighborhood was a priority to you, or perhaps you just loved the short commute. As seasons change, it is normal to begin prioritizing different amenities.
Maybe you want to be in a different school district, you'd like to live on a lake, or being a part of an HOA with a community pool and fitness center sounds appealing.
3. Relocating to be closer to loved ones
There is one feature of your home that is virtually impossible to change: its location. One of the top reasons to sell a house is so that you can move nearer to loved ones. Perhaps your adult child has recently given you grandchildren you want to be closer to, or maybe your parents are beginning to need additional support. Whatever the case may be, moving to be closer to relatives is a wonderful reason to sell your home.
4. Needing home office space
If you are one of the many people who now work from home, having a dedicated home office space may be on your list of reasons to sell your home. While some houses are suited to a creative home office solution, yours may simply not be working.
Many people are now trying to coordinate working from home, schooling from home, working out at home, and more, after learning throughout 2020 that there are many things they prefer to do in the comfort of their own space. This might also mean you have outgrown your space, and need to list your current house to look for one with a more functional floor plan.
5. Hoping to downsize
While the most common scenario that leads homeowners to want to downsize is retirement or becoming empty nesters, there are many reasons someone might decide they want to purchase a smaller home. Perhaps you are looking for something lower maintenance, or maybe you just want to live a more minimal life.
Downsizing can be an excellent decision from a financial perspective, too. Moving to a smaller home can mean taking the equity from the sale of your larger home and either putting a large amount down to offset the higher interest rate, or providing you with a new chunk of cash to invest. Whatever the specifics, downsizing can be a great motivation for selling your home.
Want to talk more about whether now is the time to sell your home? We are here to help. Contact us any time.