Mistakes to Avoid when Selling Your Home
Posted by Tammy Emineth on Saturday, October 22, 2022 at 5:31:08 PM
By Tammy Emineth / October 22, 2022
Comment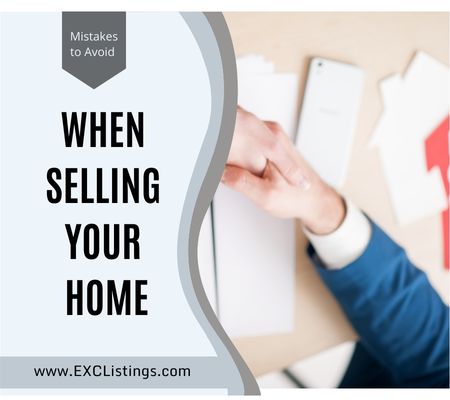 As you prepare your home for sale, your to do list may be growing to a daunting length and the process may begin to feel overwhelming. There are a quite a few common mistakes sellers make, but there's no reason you can't learn from others' blunders and enjoy a smooth process.
One of the best things you can do for yourself is work with the right professional team. We are here to help the process be as smooth and successful as possible, so contact us any time to learn more.
Here are some of the common home selling mistakes people make, and how to avoid them.
Underestimating the Cost
Selling a home, especially if you have owned it for a while, can be a great way to make a profit. Chances are you have built some major equity as the real estate market has grown in recent years, and even more so if you have been in the home for a decade or more.
This is a great motivator to sell, but make sure that you also take into account the upfront cost of selling your home. In addition to agent commissions, there are a few other costs you should be prepared to cover:
Concessions to the buyer
Closing costs
Repairs
Cleaning and staging expenses
Moving costs
Chances are high that even after all of these expenses, you will come out of the transaction with significant profit. Being aware of and prepared for the expenses ahead will help you make the best decisions and have a less stressful experience.
Setting an Unrealistic Price
A common mistake sellers make is listing their home for a price that simply is not realistic. Getting the price right from the beginning is one of the best strategies to have a successful home sale, attracting your ideal buyer quickly and avoiding the dreaded price reduction.
The best way to make sure your home is listed with the right price is to defer to the professionals. Your real estate agents know the area, the features buyers are willing to pay top dollar for, and what the best pricing strategy will be for your unique situation.
Choosing the Highest Offer without Considering Others
In many cases, sellers will receive multiple offers on the home. If you find yourself in this position, resist the temptation to quickly accept the highest offer. Even if the price is the highest, the details of the offer may mean it isn't the best offer for you.
Other factors to keep in mind include:
The strength of the buyer's funding
The timeline of the offer
Buyer requests for furniture, appliances, or repairs
Contingencies
Ignoring Urgent Repairs
After accepting an offer, your buyer will almost certainly hire a home inspector to get a report of the condition of the home. This report is likely to reveal any major repairs that need to be done, which can result in the buyer negotiating a lower price, backing out the deal, or requiring you to repair the problem before closing.
You can avoid the stress and delay caused by this situation in many cases by dealing with major repairs before listing. If there is something you know needs to be repaired, either have it done before listing or plan to cover the cost through a credit for the buyer. If you are not sure if anything needs to be done, consider hiring an inspector yourself before listing the house to find out if there are any unpleasant surprises waiting for you.
Want to learn more about listing your home and enjoying a successful home selling experience? We would love to help, so contact us any time to learn more.