Increasing Your Home's Appraised Value
Posted by Tammy Emineth on Thursday, September 22, 2022 at 4:30 PM
By Tammy Emineth / September 22, 2022
Comment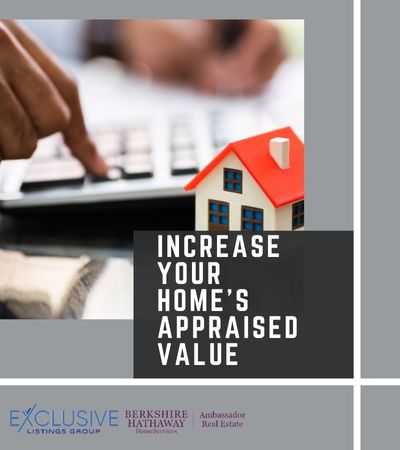 When you sell your home, its appraised value is one of the most important factors in the process. It will be to your benefit to maximize your appraised value so that you can accept the highest possible offer regardless of the buyers' financing situation.
To increase the appraised value of your home, check out these simple tips.
Focus on Curb Appeal
Appraisers look at the first impression of your home, also known as its curb appeal. Spending a little time and money to improve your home's curb appeal will pay off when it's time to sell.
Not sure where to start? Here are some ideas:
Replace or repaint the front door
Power wash the house and/or the sidewalks and driveway
Stage the porch or patio with furniture, potted plants, and a fresh welcome mat
Plant flowers, or even put in faux flower boxes, for a pop of color
Keep up with yard work, possibly hiring a lawn care service for the time your home is listed
Track Home Renovations and Improvements
In some cases, a big home improvement project or renovation is called for when preparing your home for sale. Perhaps you will decide to renovate a bathroom or install new flooring or windows. In many cases, these projects will pay off when the appraiser comes.
To make sure that the appraiser sees the value of these projects, keep track of every renovation or home improvement with receipts from contractors who did the work or the cost of materials for projects you did yourself.
Don't Forget Staging
Staging your home is an essential part of showing its value. Depending on your skill set and the time you have to put into it, you may want to hire a professional to stage the home.
If you'd like to do it yourself, here are some things to focus on:
Declutter the house by packing away as much of your personal belongings as possible. Make your closets and cabinets appear more spacious and functional by making sure they are not filled to the brim. Get rid of stacks of mail, appliances on the kitchen counter, toiletries on the bathroom counter, and shoes or coats by the front door.
Replace personalized decor with more neutral choices.
Paint over bold color choices with something neutral that will appeal to a wider range of potential buyers.
Repair any minor damage like chipped paint, stains on carpet, or loose hardware.
Make sure each room is furnished in a way that shows how the space can be used. A finished basement can be staged as a game room or home gym, for example.
Find Out What Buyers Want
Not all home improvements will pay off in the same way. Find out what buyers are looking for in your area before investing in any projects. The best way to discover this is by working with an experienced agent. If you are not sure what projects need to be done to increase the value of your home and it's appeal to buyers, start by contacting us. We can help you assess the current status of your home and where your resources would be best invested to prepare the home for listing and appraisal.
By comparing to other homes in the area, we can help you determine what would make your home stand out from others in the neighborhood. Appraisers will take comparable properties into account, so this is a valuable way to get a higher offer, and a higher appraisal.
To learn more about preparing your home for sale, contact us any time!