Increasing the Screen Appeal of Your Home
Posted by Tammy Emineth on Monday, July 25, 2022 at 3:57 PM
By Tammy Emineth / July 25, 2022
Comment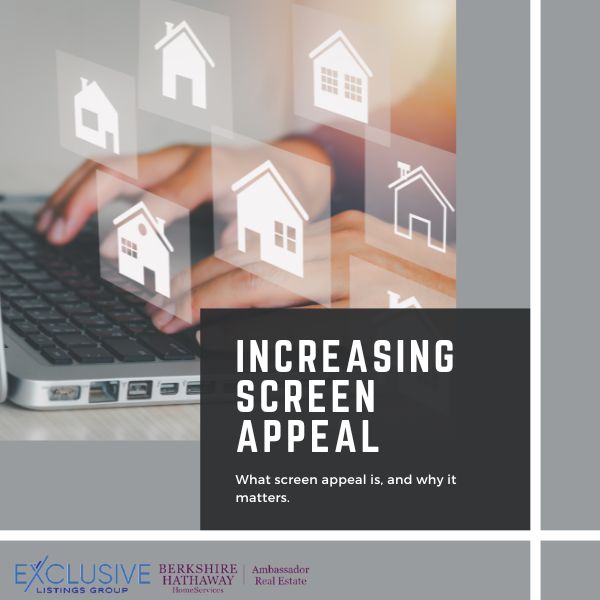 You probably know about curb appeal, but have you heard of screen appeal? Selling a home in today's market requires a high level of screen appeal, and we have all the information you need to make sure your home is ready to attract the best buyers.
What is screen appeal?
Screen appeal is the way your listing appears online. With nearly every buyer viewing a property's online listing before seeing it in person, the way the property appears in online photos is one of the most important things about it. That digital first impression is what leads the buyer to move forward in considering the property, or move on toward something else.
Why does screen appeal matter?
Research shows that nearly every person in the market for real estate will view properties online before seeing them. This allows buyers to use their time efficiently and only schedule an in person showing or attend an open house for a property they already know is a strong contender.
If your home has low screen appeal, you are likely to find that it either does not attract much attention, or attracts the attention of buyers who think there will be less competition for it (in other words, buyers who do not have strong funding or are looking for a lower price).
To attract the best buyers, your home needs to put its best foot forward, and its "digital foot" is the first one they will see.
How can I increase the screen appeal of my home?
So you are convinced that increasing your home's screen appeal is worth the investment it requires. What's next? There are a few simple steps you can take to instantly increase the screen appeal of the home. If you aren't sure how to get started, we are always ready to help direct you toward the most successful selling process.
Start with these tips:
1. Stage the space
Potential buyers will quickly scan photos in an online listing, looking for how the spaces in the home can be used. Staging will allow your buyer to imagine how the property will work for them.
The goal is to make your home appeal to the widest possible range of people, so stage in a general way that will show how the rooms in your home can be used. For example, vacant basements could be staged as a game room or home gym, and a spare bedroom can be set up as a guest space or home office.
2. Consider the lighting
A photographer can only do so much without good lighting. Any way you can maximize natural light in the home will be a benefit. Some ways to do this include:
Swapping out window coverings for sheer curtains that let in more light
Trimming trees or shrubs that block light from windows
Adding mirrors to reflect any natural light
3. Declutter and deep clean
You may have heard that the camera adds ten pounds, but did you know that same principle applies to clutter in a photo? Stacks of mail, personal items on a bathroom counter, pet food and water bowls, and other items that you may not even notice anymore can stick out in a photo in an unpleasant way.
By ruthlessly decluttering before the photographer comes to document your property, you will allow the best features of the home to shine without distraction.
The same goes for deep cleaning. If possible, now is the time to hire a professional cleaning team to get your home sparkling and fresh for its photoshoot.
4. Hire a professional photographer
After you have gone to all the work of setting your home up for perfect photos, make sure you hire a pro. We can recommend professional photographers with experience in real estate and online listing projects who know exactly how to present your property in its best light (literally!).
5. Highlight special features
If your home has a few major selling points or details you think a buyer might love, an online listing may be the perfect place to highlight them. These might include:
Upgraded countertops, lighting, or appliances
Built in organization or shelving
Smart home features that will be sold with the home
Raised garden beds or other landscaping upgrades
Views from the home
Looking for a little more guidance? Contact us any time to find out how we can help.