Features that will Make Your Home Stand Out from the Competition
Posted by Tammy Emineth on Monday, October 3, 2022 at 4:00 PM
By Tammy Emineth / October 3, 2022
Comment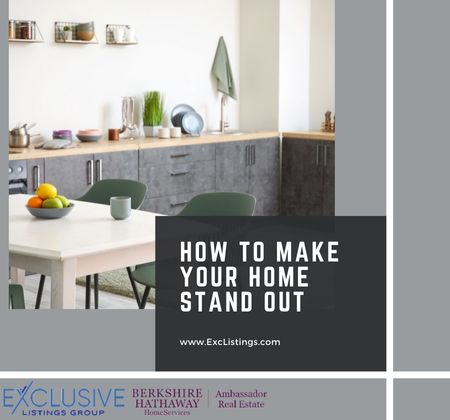 As the market shifts with rising interest rates, smart sellers are being strategic about making their homes stand out from competition. It is still a great time to sell, where we are seeing well priced homes receiving strong offers, but sellers cannot expect the feeding frenzy that was common this time last year.
In order to make your property stand out from comparable homes in the area, there are a few things you can focus on. As always, we are here to help you enjoy a successful selling experience, from start to finish. Contact our team any time to learn more!
To begin the process, start considering how you might implement some of these ideas to make your home stand out from the crowd.
Updated Kitchens and Bathrooms
Not all renovations will pay off when it comes time to sell, but updated bathrooms and kitchens nearly always attract the ideal buyer, and the higher offers they bring. You can sell your home with an older or outdated kitchen and bathrooms, but if you have the time and resources to make some changes we recommend it.
Many buyers today are looking for a home that is move-in ready, not wanting to deal with a renovation after buying the home. If you decide to do some updating, focus on neutral and timeless design choices that will appeal to a wide range of buyers.
Not sure if your kitchen and bathrooms need updating? Give us a call and we'd be happy to provide our professional opinion!
Smart Home Features
According to some surveys, many of today's buyers are looking for homes that are already equipped with smart home features. There are many smart home features that can be added to the home before listing for relatively little expense and effort, and are enough to make the home stand out from others in the area that are otherwise quite similar.
A few smart home features you might want to consider adding:;
Smart locks
Camera doorbell
Smart thermostat
Smart garage door opener
Security systems
Energy Efficient Appliances
Some sellers plan to replace an appliance or two before selling. If you are planning to do this, make sure to choose an energy efficient replacement. This is a major selling point for today's smart buyer, who is looking for every way to be kind to the earth while being kind to their wallets. About 75% of millennial homebuyers are looking for energy efficient appliances, so we recommend prioritizing them if you are already planning to make an update.
Home Warranty
A great way to provide peace of mind to buyers, and potentially win them over from another home they are considering, is by offering a home warranty. Consider purchasing a seller's warranty and extending it for a year to cover any potential issues that may arise after the buyers move in. This is usually a relatively low cost that can be a major selling point for buyers on the fence.
Walkability, Proximity, and Location
Highlighting the perks of your home's unique location is a smart way to show its best features. This is also a free way to help your home stand out. Share with your agent what you love about your home's location so that we can highlight it on the listing and to buyers' agents.
Maybe there are multiple parks and walking paths nearby, or perhaps you can see a fireworks display each 4th of July from your porch. It could be the family friendly atmosphere of the neighborhood, the excellent local school, or even walkability to a farmer's market. The things you love about your home may become a major selling point for it, so make sure to share these details with us as we prepare to list it!
Want to learn more about getting your home ready for a successful sale? We are here to help! Contact us any time.