Disguise an Ugly Space with Staging
Posted by Tammy Emineth on Monday, September 26, 2022 at 3:59 PM
By Tammy Emineth / September 26, 2022
Comment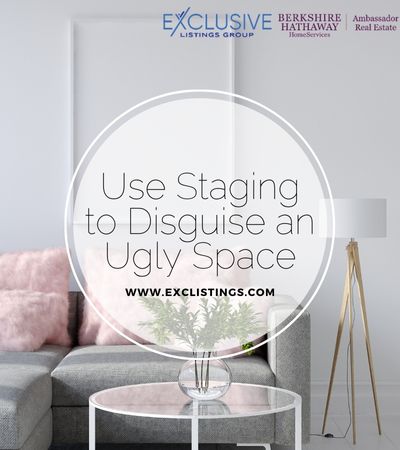 In preparing to sell your home, you will consider each space in the house and whether it needs some TLC before you list the property. Some parts of the homes might require repair or renovation in order to interest the ideal buyer, while others simply won't be getting any attention before you put it up for sale.
You may not be sure which parts of your home need to be given some attention, and which can be left as is. This is one of the reasons to rely on the expertise of an experienced real estate agent. We can help you decide where your time, money, and energy are best spent in preparing your home for sale.
If there are parts of your home that are, simply put, ugly, but won't be getting any renovation attention, you can rely on staging instead. Staging can disguise an unattractive part of the house and help the potential buyer to see its potential.
What do you mean "ugly spaces?"
When we are talking about ugly or unattractive spaces in the home, we don't mean something that just needs a deep clean or a new coat of paint. In most cases, a weekend's worth of effort can spruce up a room that needs some cosmetic attention. When we say "ugly space," we mean an unfinished basement, an outdated workshop, or a backyard shed that has been neglected inside.
These spaces need to be shown, if not in online photos at least in person, and can garner the wrong kind of attention. If you put in the effort to keep the rest of your home looking ready to show, but have a garage that is a complete disaster, it may make your home stand out in the wrong way.
How can staging help?
Staging is a great way to invest minimally while distracting from the unattractive features of the home. For example, you likely don't want to invest the time or money required to fully renovate your garage, basement, or backyard workshop. However, a small amount invested to clean it up and show how the space could be used will be a fraction of the investment, and will likely pay off big time.
Buyers want to be able to imagine themselves in the home. As they walk through the home, they are making a mental list of what would need to be done to make this house their home. The shorter that list, the better. A staged space eliminates some of the mental hurdles required for your potential buyer to fall in love with the home. Staging an ugly space also takes it from being something the buyer needs to ignore to a potential selling point of the property.
Cleaning and Decluttering
One of the most underestimated, yet most valuable, tools in staging is the process of cleaning and decluttering. This is especially important in ugly spaces, which tend to be somewhat neglected on a regular basis.
Let's use the example of a garage workshop space. Start by storing away everything that could be viewed as clutter. Any tools that cannot be neatly stored in the workbench should be placed in opaque boxes, bins, or cabinets that can be closed. This may be a great time to start packing and moving some things to an outside storage space.
After decluttering the garage as much as possibly, a pressure washer can be used to thoroughly clean the floor. Be mindful of cobweds, dust, and debris that has built up over time, and make sure to address any odors by airing the garage out.
Lighting
Many of these ugly spaces tend to be poorly lit. Never underestimate the power of good lighting! Wherever possible, increase the natural light that comes into a space. Trim trees and shrubs in front of any windows, and remove heavy window coverings if there are any. If the space simply does not have much natural light, add in some attractive lighting to brighten up the space.
Show the Functionality of the Space
After decluttering, cleaning, and addressing the lighting in the space, it's time to show how functional it can be. This is when you might bring in some staging furniture or decor to show its potential.
In our garage example, you may want to place a stool or seat near the workbench, hang some subtle artwork, or set up what looks like a (tidy) project in process. Pay attention to details like nicely organizing hanging tools or styling storage shelving.
If you are staging an unfinished basement, consider adding a cute laundry folding station, or setting up a game table and shelf of games. Simple staging can help spark your buyers' imagination for how they might use the space.
To learn more about preparing your home for the best possible selling experience, contact us any time. We would love to help!