8 Tricks to Sell Your Home
Posted by Tammy Emineth on Sunday, August 14, 2022 at 5:47 PM
By Tammy Emineth / August 14, 2022
Comment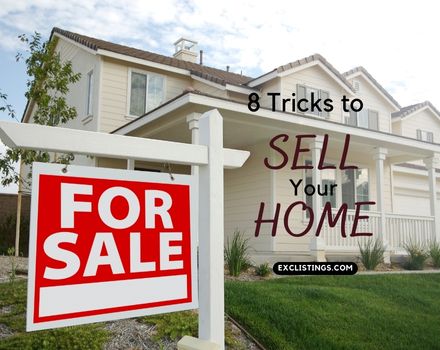 Selling your house to your ideal buyer for the best price and in your ideal timeframe requires the right strategy. With these 8 tricks, you can set yourself up for succes.
1. Don't over upgrade
This is a place where many sellers waste some serious time and money. As you prepare your home for sale, you may want to invest in some upgrades. Some homes will benefit greatly from updating before listing, but not all upgrades have equal benefits. It is possible, and common, to invest a signifcant amount of time and money in an upgrade that provides minimal ROI.
In other words, talk with your agent before planning any upgrades or renovations. Your home may be totally sellable as-is. If it isn't having an expert opinion to help you prioritize some upgrades over others will be in your best interest.
2. The kitchen upgrade is nearly always worth it
We know, we just told you not to over upgrade, but the kitchen is one room in the house that will nearly always provide and excellent ROI. Especially if your kitchen is at all outdated, investing in the renovation and updating of the kitchen will attract better buyers.
In many ways, when you are selling your house you are selling your kitchen. Because this is such a significant selling point for so many people, it is not uncommon for a decision between two potential properties to come down to which kitchen the buyer prefers. Make sure yours is ready to make a great impression.
3. Hide pet evidence
While you love and adore your pets, not everyone will. During the time your house will be on the market, find a way to hide the evidence that any pets live there. That means storing any pet toys, beds, food and water bowls, litter boxes, and any other items. Even if they are tidy, it's best to put them away during showings.
Of course, pay careful attention to any presents your pets pay have left in the lawn, too.
4. Minimize your belongings
A home that appears to have insufficient storage will be unappealing to many buyers. If your closets are currently stuffed, consider removing half or more of the belongings before showing the home. You can easily accomplish this by beginning to pack clothing that is off-season and not currently being worn or any linens you can live without for a while. Other items that you may have an abundance of like board games, craft supplies, or other hobby items can also be stored.
Any personal items that can be packed away now, even just in boxes in the garage, will help your home's storage put its best foot forward.
5. Pay attention to lighting
Homes that are bright are more welcoming and appealing. Make sure your home features as much natural light as possible by opening all window coverings, or even changing them for sheer curtains for the time being.
If there are any trees, shrubs, or other plants in front of any windows, trim them before showing to allow the maximum amount of natural light in.
6. Get the price right
Pricing your home is a complex decision that makes a big impact. Pricing your home too low may send the message that there is something wrong with the home and you want to get it off your hands quickly, in addition to potentially leaving money on the table. Pricing it too high is likely to lead to the house sitting on the market for a while, and eventually needing a price reduction.
While pricing it perfectly every time is impossible, we can help you make the best decision possible based on our up to date knowledge of the market in your area.
7. De-personalize your home
As you prepare to sell, walk through your home and consider if there is any item that is personalized. This might include family photos or special collections. Replacing your personalized decor with staging items that appeal to a wider range of potential buyers will help buyers envision themselves in the home more easily.
8. Always be ready for a showing
While it's always preferred to have time to prepare the home for a showing, being ready with short notice may allow you to show the home to a serious buyer who is in a time crunch.
Keep your home ready for a showing at all times by keeping things tidy, cleaning regularly, and limiting cooking with strong odors. Don't leave dishes in the sink or clutter on the tables. Though it can be a nuisance, this temporary to-do list will keep your home ready in a moment's notice.