5 Things You Don't Need to Fix Before Selling Your Home
Posted by Tammy Emineth on Tuesday, October 25, 2022 at 7:39:20 PM
By Tammy Emineth / October 25, 2022
Comment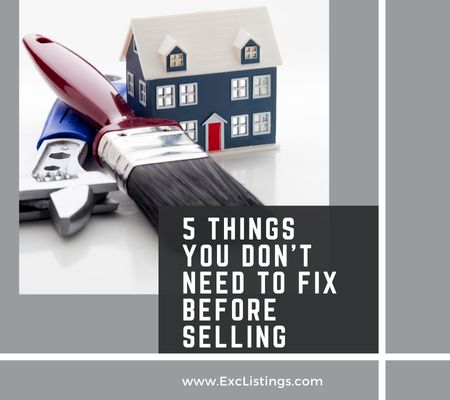 Preparing your home for sale requires a balancing act, keeping in mind your timeline and budget as you decide how to make your home appealing to your ideal buyer, for the ideal price. While some home improvement projects are known to result in an excellent ROI and make a great impression on buyers, others will require a lot of your resources as you get ready to sell without giving you much in return.
Not sure what you should do to prepare to sell your home in Omaha? We can help! We are always available to take a look at your home and provide our professional opinion, so contact us any time.
In the meantime, check out this list of 5 things you don't need to fix before selling your home.
1. Superficial Stains and Cracks
Major damage in the home should be addressed, but minor wear and tear is to be expected for a home that has already been loved for a few years. Take the time to deep clean, but if your carpets still have some stains this is not something worth stressing about. Many buyers will decide to replace carpeting anyway.
Cosmetic damage like cracks or scuffs in the floor or baseboards are minor enough to either not be noticeable to your buyer, or at the very least not be a deal breaker. Rather than paying to replace or repair superficial damage, hire a professional cleaner and the let the home be shown as it is.
2. Paint
In some cases, paint can be a great way to freshen up a house. Exterior paint in particular is a great way to provide fresh curb appeal. Interior paint, however, tends to be an investment of time and money that isn't really worth it when you list the home.
The exception to this rule is bright or bold color choices. If your interior paint is anything but neutral, you will likely need to paint over it with something that will appeal to the general public. However, there is no need to worry about freshly painting a home that already has neutral walls, even if they are not newly painted or the most on-trend color.
3. Windows
Replacing windows is a major investment, and while it may make your home more appealing to some buyers, research shows that homeowners only tend to recoup about 63%-67% of the cost. That's not a high enough ROI to make the major expense worth it, in our opinion.
Instead, just made sure your existing windows are in good condition and have been throughly cleaned, including window tracks and both interior and exterior panes.
4. Dated Styles
Your home may not be totally on-trend, but that's okay. Rather than spending the time and money required to update outdated flooring, hardware, or lighting, you can focus on a thorough clean that will give a great impression of a well-maintained home.
In most cases, even if you were to invest in new flooring and updated finishes, the buyer may still rip them out for something more their taste. Avoid the waste and the need to recoup your investment by opting for clean rather than new.
5. Appliances
If any appliances in the home are broken, by all means plan to replace them before listing. However, if the appliances are simply older or unattractive, it is likely not worth the investment to replace them. The purchase price you will need to make the investment worth it is likely not what you will get, so skip replacing the appliances as you stage the home for sale.
Ready to sell your home in Omaha? We are ready to help, so contact us any time.