3 Reasons It's Still a Good Time to Sell
Posted by Tammy Emineth on Wednesday, October 26, 2022 at 3:09:25 PM
By Tammy Emineth / October 26, 2022
Comment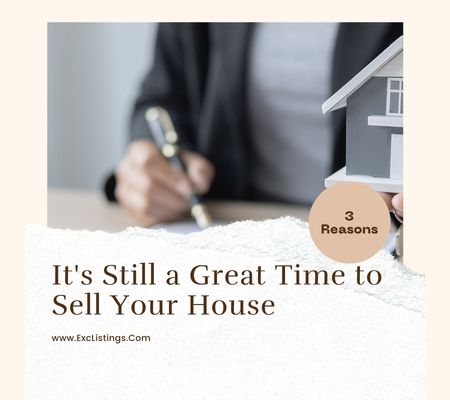 Anyone who keeps up with the news sees the doom and gloom headlines about the real estate market: rising interest rates and inflation are bring the market to a screeching halt, right? Not exactly.
While there is a lot of money to be made by news outlets writing scary headlines, the truth of the matter is that now is still an awesome time to sell a house. Keep reading for 3 reasons we believe this to be true.
Want to learn more about selling your home in the Omaha area, or find out what your home is worth? Contact us any time to find out how we can help!
1. It's Still a Seller's Market
While the market is shifting toward a more balanced status, it's still a seller's market. Real estate analysts define a seller's market as one in which there are less than 6 months of inventory, a buyer's market as one in which there are more than 7 months of inventory, and anything between the two as a neutral market.
In comparison to the record breaking seller's market we have all observed in the past two years, the current market is slowing down. However, we still see about 3 to 4 months of inventory in most markets, which is easily categorized as a seller's market.
If you are considering selling your home, you can rest assured that there is still a limited inventory that will allow you to experience favorable selling conditions.
2. There are Still Plenty of Buyers
Again, in comparison to the past two years, we are seeing a slowing down in the market. However, there are still more than enough buyers in the market to keep things moving. Based on current market averages, the number of buyers in the market for a property like yours will still be higher than they were in 2019 or years before that.
It's true that some people are being priced out of the market due to rising interest rates, but this only accounts for a portion of the buyers who are looking for a home. Creative solutions like buying discount points or shifting investments to make a higher down payment are being leveraged by buyers who are still motivated to purchase a home, and investors continue to be interested in purchasing real estate no matter the change in interest rates.
Because the housing market operates on principles of supply and demand, just like any other industry, seller's continue to have a strong position as the demand for homes remains higher than the supply.
3. Homeowners are Holding Record-High Equity
When you sell your home, in nearly every case you will be looking to buy another home. Homeowners in America currently hold an average of $300,000 in home equity, a record high that places sellers in a strong position to take that equity and leverage it for the purchase of a new home.
Whether you are downsizing, upgrading, or relocating, the equity you have in your current home will help you bridge the gap in a market with higher rates. In the future, chances are high that you will be able to refinance into a lower rate, but in the meantime your home equity places you in a strong buying position.
When you're ready to learn more about selling your home, contact us to find out how we can help.