3 Mistakes People Make When Selling Their Home
Posted by Tammy Emineth on Tuesday, August 2, 2022 at 11:16 AM
By Tammy Emineth / August 2, 2022
Comment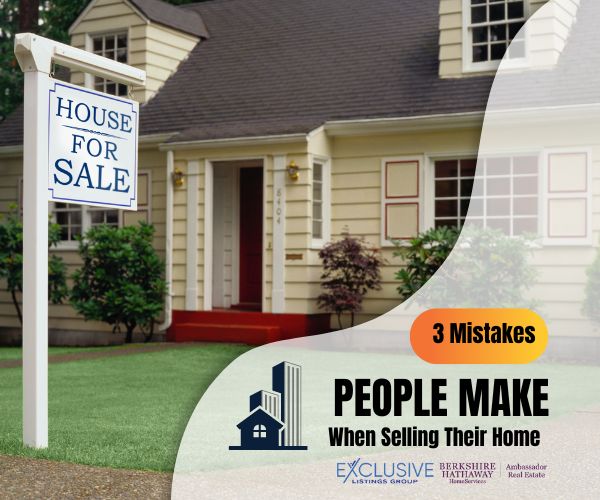 Many people are wondering if now is still a good time to sell their home, with rising interest rates and a shift in the housing inventory. The short answer is it is still a great time to sell, but you have to be smart about it.
Having the right strategy is key when selling your home. Keep reading for 3 common mistakes people make when selling their home, so you can know what to avoid.
1. Letting emotions take the lead
Selling your home can be an emotional process, and we understand that. You've spent a great deal of time, money, and effort making this house a home, and around every corner is a memory. No matter how long you have lived in your home, it's normal to feel attached to it.
When the time comes to list your home, review offers, and continue through the escrow process, emotions will rise. It's important to keep them in their proper place so you can handle the process as a business transaction. This is the best way to be sure you are making the right financial moves.
Try to think of yourself as a salesperson for the home, rather than thinking of the home as your own. Working with the right team of professionals can help you keep thinking logically and make decisions that are in your best financial interest.
2. Opting out of professional help
Many people consider selling their homes themselves, with the perk of keeping the commission price themselves. While there is technically nothing keeping you from doing this, we think it is one of the most common mistakes people make.
Even in a hot sellers' market, there is expertise that your team of real estate agents will bring to the table that you won't want to go without. This includes:
Knowing how to price the property, keeping it from sitting on the market too long at too high a price, but also avoiding too low a price that leaves money on the table
Professional expertise about what needs to be disclosed about the property, in order to avoid sharing too much while also fulfilling your legal responsibility
Connecting you with the best professionals in their network for staging, photography, and more
Finding the ideal buyer for you by marketing well and utilizing their professional network
3. Not preparing for the listing
The final common mistake we see is not preparing the home for listing. The screen appeal of your home and the impression is gives during a showing are some of the most important factors in the entire selling process.
A home that was not properly prepared for listing is unlikely to attract the best buyers and best offers. In order to receive multiple strong offers, the best thing to do is invest a little time and money in preparing the property for sale.
A few of the common things we recommend include:
Decluttering the property to allow its best features to shine without distraction
Hiring professional cleaners or giving the house a deep clean
Replacing bold design choices with something more neutral that will appeal to a wide variety of buyers
Staging empty rooms or unusual spaces to display their potential
Maximizing natural light in the home
Paying special attention to outdoor grooming, including power washing walkways, planting new flower boxes, replacing damaged mailboxes, and freshening up the welcome mat
Hiding pet items, including litter boxes, food and water bowls, and pet beds
Not sure where to start? We have a team of experts that would love to give you direction for where to focus your efforts before listing. Contact us any time!