10 Tips and the Ultimate Guide to Staging
Posted by Tammy Emineth on Monday, July 4, 2022 at 11:41 AM
By Tammy Emineth / July 4, 2022
Comment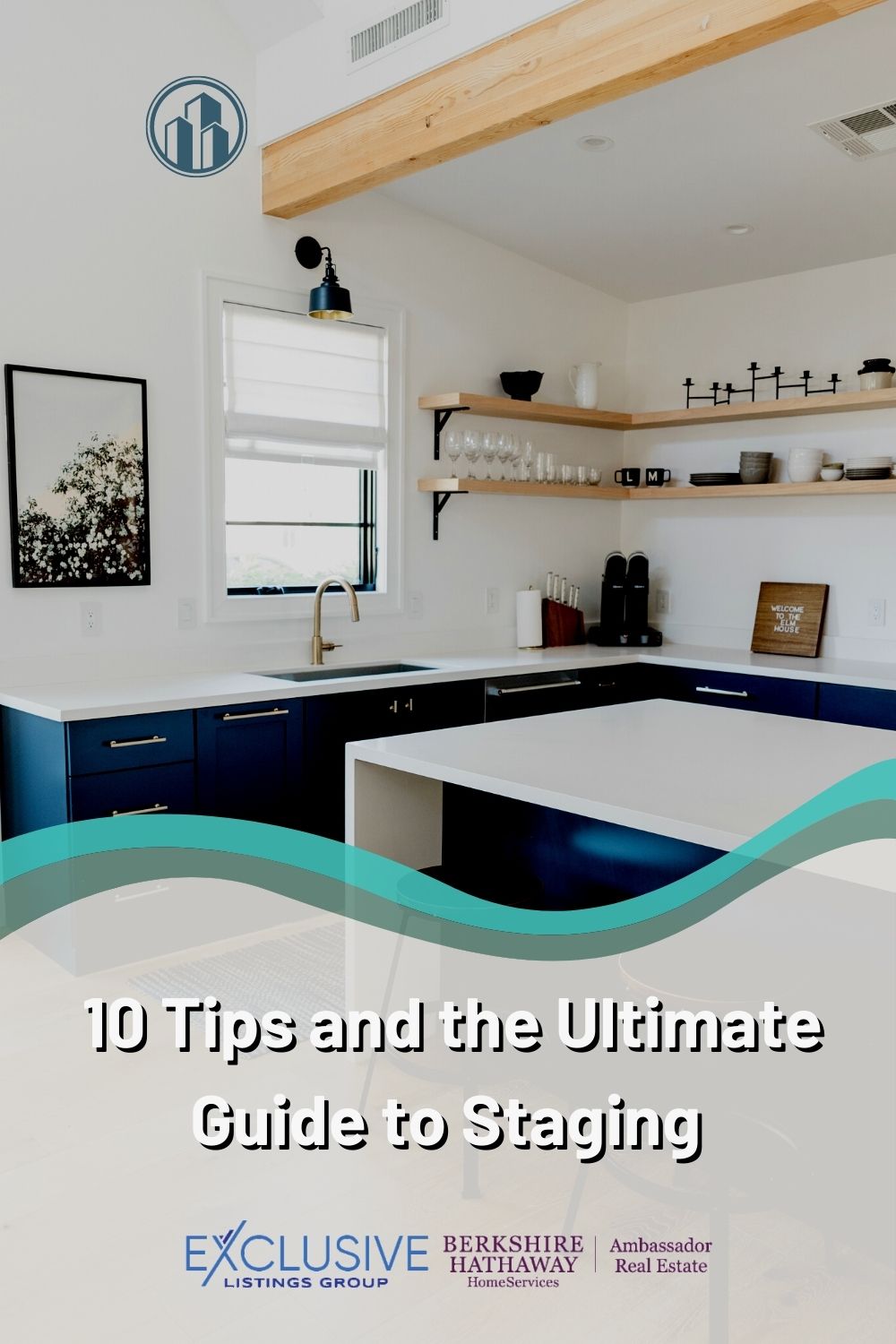 For many people, buying a house is the largest purchase they will make. According to the United States Housing Market, as of May 2022, home prices reached an astounding 14.6% compared to last year with a grand selling median price of $430,311.00. If you want to sell a house quickly and join the masses for the best possible price, staging is one of the easiest ways of making that happen. Staging allows for potential buyers to see a home in its very best light, while offering an illustrated version of a property without requiring a complete makeover. You have a lot to gain from making it easier on a buyer to imagine the true potential of a space, and with that, here are a few tips and tricks to staging a home.
Step 1: The Living Room
Remove unnecessary furniture and start by decluttering to maximize space.
Update lighting to brighten up the space.
Keep blinds open to increase flow of natural light.
Pull furniture away from walls, consider filling holes.
Repaint walls if they are a dark color and replace with a light neutral color.
Remove familiar belongings to depersonalize.
Declutter by boxing up books, magazines and clear surfaces of personal items.
Step 2: Dining Room
Improve lighting by keeping all blinds open.
Declutter surfaces.
If using table decor, remove it to make the space appear larger.
Consider adding houseplants to make the space look warm.
Set the table, but only if it adds to the ambience, not taking away from it.
Step 3: Bedroom
Change the bedding to ensure that the space is fresh.
Add pillows and throw blanket for decor.
Remove personal items.
Declutter closets and bookshelves.
Pull the bed away from the wall, consider filling holes, painting over scratches.
Organize closet and wardrobe, don't overcrowd clothing.
Step 4: Kitchen
Organize fridge and declutter if it is still used.
Clear and wipe down counters.
Deep clean kitchen appliances.
If cabinets are outdated, think on updating and/or repainting.
Clean or remove smaller appliances that aren't built in.
Replace worn hardware, knobs and faucets.
Declutter cabinets.
Hire maintenance to fix any leaks.
Step 5: Bathroom
Hire maintenance to recalk, and fix any leaks.
If the shower and faucets are old, have them replaced.
Repaint or restrain cabinets if they are outdated.
Ensure towels hung up are a neutral color.
Wipe down counter spaces, replace soap in an attractive container.
Declutter and organize drawers, cupboards and/or closet spaces.
Empty or put away wastebasket to maximize cleanliness and space.
Replace shower curtain in a neutral color, or wipe down glass shower.
Keep the toilet seat down.
Step 6: Maximize Curb Appeal
Repaint the exterior of the home including trim, doors and shutters.
Double check front door, doorbell, address number and welcome matt.
Powerwash exterior of the house.
Inspect the roof, reshingle if you have to.
Repair cracks in the driveway.
Maintain lawn and landscape.
Store any excess yard decor to maximize space.
Clean gutters and downspouts.
Step 7: Show off Your Home's Best Features
Draw attention to hardfloors by removing rugs.
To showcase nice views, have blinds drawn back to pull in natural light.
Stage outdoors with furniture and potted plants to appear homey.
Ensure a fireplace is in working condition and clean.
Clean the backyard and pool area if you have one.
Step 8: Appeal to the Senses
Get rid of lingering smells and purchase scented candles.
Offer light refreshments.
Turn on all lights.
Open windows to let in fresh air.
Keep the interior of the house cool.
Turn off TVs.
Relocate any pets on the day of the showing/open house.
Refrain from smoking in the home or anywhere near the premises.
Step 9: Clean, Clean and Clean
Thoroughly clean the entire home.
Rid the home of dust bunnies.
Organize all spaces, and secure valuable items including cash and jewlery.
Remove items from the garage and store them offsite.
Step 10: Prepare for the Open House
Inform family, friends and neighbors of the time and date of your open house.
Put up "open house" signs outside of neighborhood and in the lawn of your home.
Hold a brokers' open house to let local agents know your home is on the market.
Offer food and refreshments.
Create property description sheets.
Staging helps sell homes much faster than nonstaged competition. A staging can transform a home into all its former splendor, highlighting all of the best features that may fit a new family. It is an act that makes a seller an artist in their own way, able to take the blank slate of their home and recreate it in a way that will leave a buyer in love with the piece. But staging only takes you so far. Shop around for a real estate agent and find the best realtor for you in order to get that wonderful home off the market and into a new dream.
Ready to get started? Call us at any time! We specialize in selling homes in Omaha and the surrounding area. For listing agents in Bellevue NE, home selling tips for Bennington and all Omaha real estate, contact us today!